Tamacoss
Koudelka
Level
17
HP
576
MP
115
Element
Abilities

Hit (Poison)
Weeping Cry (Paralysis)

Drops
Koudelka
Level
25
HP
961
MP
168
Element
Abilities

Hit (Poison)
Weeping Cry (Paralysis)

Drops
A common enemy in Koudelka.
"Born of unbaptised infants in limbo, they wail and cry for their long departed mothers. Unloved. Uncherished. They crawl through the Monastery searching for affection."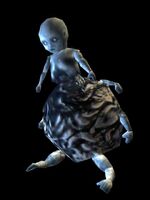 Etymology
Edit
The name derives from the Japanese word "Tama" ("Sphere, ball"), and a misromanisation of the word, "Chaos".
Ad blocker interference detected!
Wikia is a free-to-use site that makes money from advertising. We have a modified experience for viewers using ad blockers

Wikia is not accessible if you've made further modifications. Remove the custom ad blocker rule(s) and the page will load as expected.