Collectable cards used to trade for Cornelia's dresses.
A type of card collected by Pierre Magimel, featuring either nude or scantily clad muscular men with their gentials hidden by many, many phallic, suggestive and strategically placed objects.
They are given to Pierre, so that he can find some "inspiration" for creating a new dress for Gepetto's puppet.
There are ten to collect, each representing a particular country, though one of them can be found only in the Director's Cut.
Mr. Sommelier
Edit

Found: Automatically found in Gepetto's Apartment.
Marcel, the largest sommelier in the world. "After 200 pushups, I can taste the full-bodied effort," says the wine analyst popular with amateur tasters.
Mr. Matador
Edit

Found: If you have a Shadow Hearts save file, it is automatically given. Otherwise, it is obtainable from a woman in Florence.
Enrique, the master matador, also known as the Iberian Red Tornado. With a rose in his teeth and a ripple of his biceps, he tosses bulls to the ground.
Found: Prize in the Lucky Chest mini game played in the Wine Cellar.
The restaurateur Miccoli with the famous smile. His food's a bit so-so, but his customers go home smacking their lips after feasting their eyes on his body.
Mr. Detective
Edit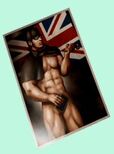 Found: Chest in Southampton.
Ashley, the shrewd detective who can solve any crime. In his spare time, he likes to read books and show off his pecs to the wives of cheating husbands.
Mr. Samurai
Edit

Found: Purcahse a drink for the Sumo Wrestler in the bar in Cannes.
Ogasawara, the last samurai, still hanging on to his sword. With it stuck in his loincloth, he cuts a dashing figure that no woman or man can resist.

Found: Prize for completing Solomon Trials Beginner Level 4.
O'Brian, the red-hot musician with the soulful sound. When he blows his sax on the stage, the crowd goes wild--for all kinds of different reasons.

Found: Speak with the pacing guard in the Winter Palace of Petrograd.
The master dansuer Kalpin performs Swan Lake, alone. With skillful use of his pecs, he recreates the beating wings of a swan, making his audience swoon.
Mr. Doctor
Edit

Found: Located behind the black sign in the Yokohama streets.
The silver-haired gynecologist, Dr. Oliver. An excellent doctor, but his nurses frown on his policy of getting as naked as his patients.
Mr. Wrestler
Edit

Found: Speak with the man by the Nihonbashi wrestler ring.
The masked pro wrestler who's just a little bit shy, his soft-looking tush is one of his charms. He likes to crush his opponents like chapattis.
Mr. Meiyuan
Edit
Found only in the Director's Cut version of the game; it is a reference to the Wanderer Meiyuan, who featured in the previous game.
Only available to those with a saved game from the previous title. Collect all of Cornelia's dresses and take them to Pierre to receive a secret dress.
Outside the series
Edit
Due to the odd nature of the quest it was most famously featured in a Penny Arcade strip, under the title of "The Utility Of Rare Erotica" also known informally as the "Check his flowerpot for gay porn" comic.
Ad blocker interference detected!
Wikia is a free-to-use site that makes money from advertising. We have a modified experience for viewers using ad blockers

Wikia is not accessible if you've made further modifications. Remove the custom ad blocker rule(s) and the page will load as expected.