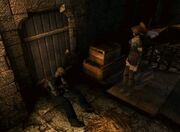 Having slipped and fallen through the ceiling,
Koudelka
comes across the wounded
Edward
, who is on the verge of death, and covered in blood.
The creature responsible for Edward's wounds, sneaks up behind Koudelka and attempts to kill her. Unable to aim because of his injuries, Edward throws the gun to Koudelka so she can finish off the creature.
Having killed the beast, Koudelka then, reluctantly, but wishing to thank him for saving her life, heals Edward, and the pair start their journey through the Monastery
Follow link for main article: Werewolf