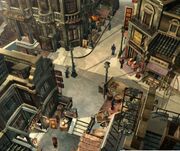 Location visited in Shadow Hearts.
It is destroyed when Dehuai manages to summon the Seraphic Radience using the reverse Demon's Gate Invocation.
A small bar located in Shanghai. At a time, it was owned by Wugui of Kowloon and filled with his henchmen. Quihua plays music regularly, and the back room holds an arena for Pit Fights.
You can get the equitable item, "Anne's Cross ," by surviving ten rounds in the Pit Fights with the main character.
The only part of Shanghai that can be visited in the game. It allows the player access to an inn, a bar owned by Qiuhua and the smuggler's boat. Lottery Member No. 12 is on the boat.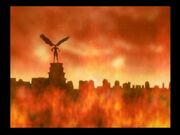 Exploration
Edit
Mika's House
Shanghai Weapon Studio (Only available after the Wugui fight)
Boss: Wugui
Valuables
Edit