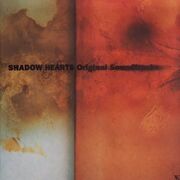 Disc One
Composer: Yoshitaka Hirota
Track List
Edit
Disc One (66 minutes)
Edit
"Wind Which Blows from the Dark I"
"Wind Which Blows from the Dark II"
"Brain Hopper"
"Ghosts Jogging"
"Sphere -qu-"
"Destruction - Noise of Fangs"
"DOA"
"Blade"
"Army Mood"
"Rice Field of Light"
"Coffee with Bullet"
"Asian Parfait"
"Heaven - Kunyang Kunyang"
"Sea - Highnoon Fish"
"Angel Heart"
"Manufacture - Beltconveyer for Killers"
"Swindler - Shanghai Mood"
"Syu-Ka"
"Profile"
"Someone's Table"
"Much Hatred Still Rankles"
"Death - Zombie Party"
"Blow Up"
"ALICE"
"Misfortune - Psycho Temple"
"China Ogre"
"Melt Down"
"Sacrifice - ALICE"
"Bloody Kitchens"
Disc Two (77 minutes)
Edit
"Atmosphere - Blow Up"
"City"
"God Knows Bad News"
"Dirty Nails"
"The Thorn of Mind"
"Reckless"
"Graveyard Moon"
"Coffin Fetish"
"NDE - Near Death Experience"
"SSC - Special Short Cuts"
"But-Dad-Dead-Bed"
"Vitamin Metropolis"
"Sweet Pillows"
"Babysitter is Old Nurse"
"Don't Cry My Vampire"
"Ripper Ripper"
"Castle of Silence"
"Callback from Jesus"
"Bacon's Juice"
"Trip or Treat"
"ICARO (Beated Version)"
"Tanjou"
"Nobody Knocks the Door"
"Star Shape"
"Middle of Nowhere"
"Demon's Gig"
"Sicking ****ing"
"Sign of Him (The Creation of God)"
"Imbroglio"
"Bate Me Bate Me"
"Result"
"Black Cat Floating in Blue Sky"
"Opening Demo Mix I"
"Opening Demo Mix II"
Vocalized Tracks are few, but are definitely good listening. The most recognizable vocal track is the Icaro track, which makes itself a theme of each game. Lyrics are unobtainable officially, but listening closely may yeild similar results to these fan-made lyrics.
For Icaro fan-made lyrics, visit it's page.
Brain Hopper
Edit
Brain Hopper is a vocalized track with no real lyrics. It is simply a woman singing a line of notes with no real meaning and no real written source.
Demon's Gig
Edit
Demon's Gig features a man speaking in the background, unrecognizable except at a few points.