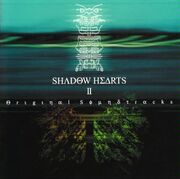 Stylised as 'SHΛDΘW HΣΔRTS II - Θrιgιηαl Sφμηδτrαcks'.
Track Listing
Edit
Prelude~ ~ Advertise I
~ICARO AGAIN ~ Advertise II
Deep Meditation ~ Title
Old Smudged Map ~ Map of Europe
Death is The Great Leveller ~ Tower of Atonement
Vicious 1915 ~ Battle in Europe
Swoop! ~ Running Wild in Europe
Suffocation ~ Grim Atmosphere
Flame of Strain to Blaze ~ Tension
In Darkness of a Labyrinth ~ Dungeon
Town of Twilight ~ European Town
Memories of Melodies ~ Peace
Dear, my Dressmaker ~ The Tailor
Grand Papillon!! ~ Pro-Wrestler
Soul Comet ~ Spirit of The Wolf
Glint of Light (Orchestral Arrangement) ~ War of The Hungry Wolf
OohLaLa! (Long Version) ~ The Beautiful Girl From Firenze
The Real Intentions
Glint of Light ~ Mid-Boss in Europe
Crack Your Body ~ Mid-Boss Running Wild in Europe
Veronica Vera ~ Her Majesty, The Queen
Call Back From Jesus -Mysterious Monastery- ~ Underground Ruins
Holly Mistletoe ~ Graveyard
Take Off! ~ Airship
Anxiety
Relaxation Mood ~ Relief
Adventure
Spiritualization ~ Holy Land of God
Sadness Mood
Never Ending Sadness ~ A Lament
Defeat And Death ~ Game Over
Rasputin ~ Mysterious Monk
Evil Gate Opener I ~ Arrival at The Stronghold I
Evil Gate Opener II ~ Arrival at The Stronghold II
Evil Gate Opener III ~ Arrival at the Stronghold III
Pulsation Fortress ~ Pulsating Stronghold
Strain ~ Assault
Crack Your Mind ~ The Fallen Angel Runs Wild
Length: 01:21:34.
Grey Memories ~ Map of Japan
Rising Sun ~ Japanese Town
Deep in Coma ~ Battle in Japan
Concon Ticktin Con Ticktin ~ Running Wild in Japan
Gathering God ~ Thrill
Impatiently Mood
Serious Mood ~ Unrest
The Past ~ Personal History
Crisis
Hatred ~ Toudou Research Institute
Field of God-Dog ~ Village of The Dog God
Fountain of Saint Evel I ~ Spring of The Holy Demon I
Fountain of Saint Evel II ~ Spring of The Holy Demon II
Hardcore to The Brain ~ Mid-Boss in Japan
Getting Nasty ~ Mid-Boss Runs Wild in Japan
Faith or Fate ~ Kato
Transience ~ The Miracle
ALICE (Piano Arrangement)
Kallen
The Fate ~ Cluster Amaryllis
The 3 Karma ~ Decisive Battle
Come on ~ The Decisive Battle Runs Wild
Result ~ Victory
ICARO (Piano Arrangement) ~ Main Theme
Length 01:03:28