Shadow
Koudelka
Level
5
HP
19
MP
40~67
Element
Abilities

Punch
Body Blow
Kick
Glint-of-an-eye (Paralysis)
Tornado

Drops
Koudelka
Level
20
HP
1089
MP
44
Element
Abilities

Punch
Body Blow
Kick
Glint-of-an-eye (Paralysis)
Tornado

Drops
A common enemy in Koudelka.
"A manifestation of the wickedness present in Nemeton Monastery. A despairing aura surrounds it and soft cries can be heard from within the orb."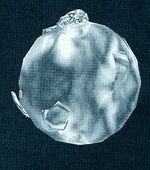 Ad blocker interference detected!
Wikia is a free-to-use site that makes money from advertising. We have a modified experience for viewers using ad blockers

Wikia is not accessible if you've made further modifications. Remove the custom ad blocker rule(s) and the page will load as expected.