The house that Roger built in the grounds of the ruined abbey. It is uses highly advanced technology and looks almost like an alien spaceship. It is only accessible in Shadow Hearts and Shadow Hearts: Covenant.
Shadow Hearts
Edit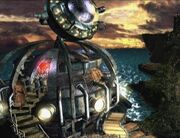 Following the events of Koudelka, Roger built a new home, not too far from the ruins of monastery, both allowing him to watch over the site, and experiment with various technologies in peace.
By the time of meeting Yuri, he'd managed to develop a teleportation device powered by a treadmill, and a space-age vending machine.
Shadow Hearts: Covenant
Edit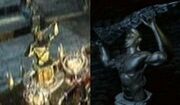 As an easter egg reference to Koudelka, the rotating statue in Roger's house, next to the treadmill, is actually a smaller version of the Sacnoth statue, as it was found in the monastary courtyard, holding the most powerful sword in the game.
A new house for Roger, based in America, was due to feature in Shadow Hearts: From the New World, but was later scrapped.
Ad blocker interference detected!
Wikia is a free-to-use site that makes money from advertising. We have a modified experience for viewers using ad blockers

Wikia is not accessible if you've made further modifications. Remove the custom ad blocker rule(s) and the page will load as expected.