Although he is seen early in the game performing at Al Capone's nightclub, he is the last character to actually join the party. A talented flamenco guitarist, his thoughts are turned from music to revenge when he is forced to kill the woman he loves after she becomes tainted by Lady with Malice.
Biography
Edit
He uses his guitar in battle, which is modified to include a shotgun, rocket launcher, and flamethrower. He also uses Serenata, which he learns by collecting certain items. His Serenades are musical tunes played on his guitar, which give status boosts to allies (though they don't affect Ricardo himself).
Personality
Edit
Fighting Style
Edit
Ricardo comes to battle bearing very special guitars: each one he uses has a set of weapons hidden within, ranging from a simple shotgun in the neck to the more exotic miniature missle launcher hidden within the guitar's body. Using smooth dance moves and false playing, Ricardo is able to fire off pot-shots while avoiding his foes.
Abilities
Edit
Ricardo's Seranatas all follow a basic pattern of four different types of melody NOTE: None of the stat increasing or boosting Melodies will actually effect Ricardo.
Main article: Ricardo Gomez/Serenata
Serenata
Name
MP Cost
Description
Image
Serenata
-
Play melodies for beneficial effects
Leveling Chart
Edit
Characters in Shadow Hearts: From the New World follow an arbitrary leveling chart, which regulates the character's base HP, MP, SP, as well as other statistics. The chart below shows Ricardo's Leveling Chart.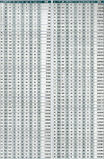 "What's you favourite rhythm?" (battle)
"I'm going to play you a requiem!" (battle)
"Have a listen to this hot ballad!" (battle)
"Edna... damn!" (battle with Malice Edna)
"Hang in there." (Restorative Magic)
"Gracias" (victory)
"That wasn't even the intro" (victory)
"Adios amigo" (victory)
"You weren't so bad" (victory)
"But that was just the intro." (victory)
"This type of audience is always welcome!" (victory)
"This wouldn't even count as a rehersal." (victory)
Oddly, even though Ricardo is a playable character he is still shown as an NPC in the library, probably because he is recruited so late.
According to Purgatory, his sin is Lust.
Ad blocker interference detected!
Wikia is a free-to-use site that makes money from advertising. We have a modified experience for viewers using ad blockers

Wikia is not accessible if you've made further modifications. Remove the custom ad blocker rule(s) and the page will load as expected.