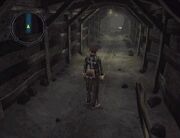 A mine which one can enter to go from
England
to
Wales
.
It's now disused, after a horrific accident caused many fatalities.
The mine is fairly straightforwards. The trouble is that half of the areas are inaccessible at first because they are pitch black. So a lantern must be found in one of the abandoned workstations. An elevator allows access to these different wooden storehouses. Once found, the lantern will be a permanent piece of equipment used by Yuri and his friends. In the darkness, keep an eye out for a Lottery member who survived the mine collapse. Also at one point, Yuri and Karin will encounter the Ring Soul who gives them another Attack Boost.
Items
Lottery Ticket
Mana Seed
Thera Seed
Pure Seed
Seal of Speed
Seal of Strength
Attack Boost
Whetstone
Fine Rapier
Studded Belt
Lantern
Minor Enemies
Boss
Ad blocker interference detected!
Wikia is a free-to-use site that makes money from advertising. We have a modified experience for viewers using ad blockers

Wikia is not accessible if you've made further modifications. Remove the custom ad blocker rule(s) and the page will load as expected.