Bestiary Info
Edit
An evil spirit formed from the dust of graveyards. It speaks, cries, and laughs with a dry, raspy voice and confuses and haunts those who visit shrines.
Etymology
Edit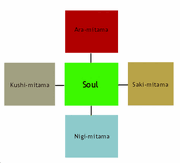 The Japanese name, Ara-mitama (荒御霊) is a reference to the Shinto belief that the human soul is sub-divided into four spiritual aspects; opposites, but also complimentary.
The four are; ara-mitama (agression), nigi-mitama (honour), saki-mitama (happiness), and kushi-mitama (wonder).
Ad blocker interference detected!
Wikia is a free-to-use site that makes money from advertising. We have a modified experience for viewers using ad blockers

Wikia is not accessible if you've made further modifications. Remove the custom ad blocker rule(s) and the page will load as expected.