Pure Seed is another item that restores more SP than Pure Leaves. It can restore roughly around 7 SP with one use. They are always available at stores and are very handy in the heat of battle.
Shadow Hearts
Edit
The seeds of the magical Pure Leaf, soaked in a special medicinal liquid for 15 years. They have a powerful tranquilizing effect.
Found: Lottery #15, Sewers, Temple Ruins,
Drops: Dead Knight
Purchase: Most shops Shanghai and on
Buy: 510
Sell: 255
Shadow Hearts: Covenant
Edit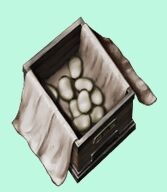 The soft-shelled seed can be rolled around the tongue like hard candy, but is very bitter when bitten into. It acts as a sedative to calm nerves.
Found: Wine Cellar, Rhondda Mine x2, Manmariana Island, Lottery #13, Lottery #10
Drops: Gargoyle, Fortune Stick, Langsuir, Pendulum, Ogoroja, Jill, Zamuza
Purchase: Most shops Florence and on
Buy: 510
Sell: 255
Shadow Hearts: From the New World:
Edit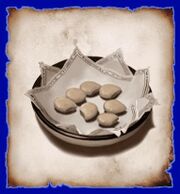 Simply licking this Pure Leaf seed is enough to calm shaken nerves. As well as being more effective than a leaf, it is also a powerful anti-inflammatory agent.
Found: Caribbean Pirate Fort, Lottery #9, Las Vegas, Lottery #8
Drops: Automaton, Mafia Hoodlum, Okeron
Purchase:
Buy: 510
Sell: 255
Ad blocker interference detected!
Wikia is a free-to-use site that makes money from advertising. We have a modified experience for viewers using ad blockers

Wikia is not accessible if you've made further modifications. Remove the custom ad blocker rule(s) and the page will load as expected.