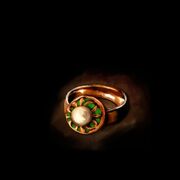 The Pearl Ring is an accessory found in Shadow Hearts. It is given to Yuri by Margarete after completing the sidequest Margarete's Confession in Rouen following the defeat of Albert/Amon.
How to Obtain
Edit
To complete the sidequest, simply bring Yuri, Margarete, and any other character to the church in Rouen. 
The Pearl Ring cuts all damage done by Water attacks in half.