Patrick's Vine

Koudelka
Level
45
HP
10201
MP
409
Element
Abilities

Side Wipe (Poison)
High-and-low Strike
Vaccum Wave

Drops
Boss Enemy in Koudelka.
"Vine born of the "Tree of Life", it seeks to block the path to the Abbey's summit. Wrapped in its embrace is Patrick's corpse. Though dead, his body moves in sickening, unnatural ways."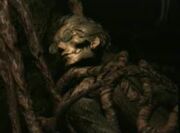 Ad blocker interference detected!
Wikia is a free-to-use site that makes money from advertising. We have a modified experience for viewers using ad blockers

Wikia is not accessible if you've made further modifications. Remove the custom ad blocker rule(s) and the page will load as expected.