Located in a country in Western Europe. Paris is the capital of France and is the country's largest city. It is situated on the river Seine, in northern France, at the heart of the Île-de-France region.
Paris is present only in Shadow Hearts: Covenant, and contains four areas the party can travel too, along with access to the underground subway.
Gepetto's Apartment
Edit
Enemies: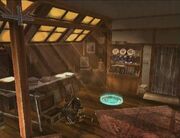 Home to Gepetto during the time he lived in Paris. After retiring to Domremy, this apartment was rarely used, till Yuri and the party return to it briefly in Covenant, after defeating Arachne in Ardennes Forest. They are attacked by some Clawed Soldiers, and Karin officially joins the party. They then leave for Montmartre.
Items Found
Edit
Nibelung Prelude
Mr. Sommelier
Mr. Matador (if there is a save of Shadow Hearts on the memory card)
Crocell
Thera Leaf
Champs-Élysées
Edit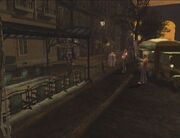 Enemies: None
On the 8th arrondissement, right bank is a seventeenth century garden-promenade-turned-avenue connecting the Concorde and Arc de Triomphe. It is one of the many tourist attractions and a major shopping street of Paris.
Yuri and the party first meet the friends of Gepetto, Pierre & Gerard Magimel in this area.
Montmartre
Edit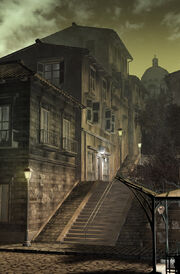 Enemies:
On the 18th arrondissement, right bank is a historic area on the Butte, home to the Basilique du Sacré-Cœur. Montmartre has always had a history with artists and has many studios and cafés of many great artists in that area, including Gepetto's favorite bar, the Paulette.
Yuri and Blanca first meet Ernest & Tetsu in this area, activating the Wolf Bout side quest.
Cathedral District
Edit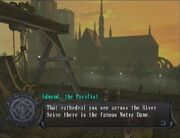 Enemies: None
Located across the River Seine, on the opposite of the Notre Dame Cathedral.
There is a shop located in the area which can offer items unlike most stores, sometimes possibly more. It is also the place to enjoy a cameo with a character from the previous Shadow Hearts should the Item Trading side quest be completed in the correct way.
Subway Tunnel
Edit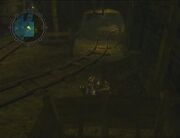 Enemies:
Boss: Castor & Pollux
Underground subway which links the areas of Paris together. The subway is a popular form of transport, though walking on foot through the unused tunnels is possible.
Yuri and the party first encounter Veronica Vera in this area.