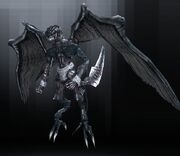 Yuri's secondary level Dark fusion.
Greater dark angel born from the darkness and malice in a harmonixer's soul. It grants massive destructive power to those who never yield in combat.
Skills
Name
MP Cost
Description
Image
Surge
12MP
Increases Special Attack for one ally
Hell's Eye
16MP
single-target Dark attack (knock down)
Mind Assault
1MP
steals a small amount of MP from one enemy
Dark Claw
32MP
single-target Dark attack (hard hit)
Etymology
Edit
"Orexis" is Latin for desire
Ad blocker interference detected!
Wikia is a free-to-use site that makes money from advertising. We have a modified experience for viewers using ad blockers

Wikia is not accessible if you've made further modifications. Remove the custom ad blocker rule(s) and the page will load as expected.