Restores 80-100 MP.
Shadow Hearts
Edit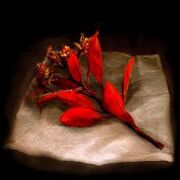 A mystical, scarlet herb that grows in secret places. When taken by those with psychic or magic abilities, consumed mystical strength is again restored.
Found: Train
Drops: Vampire Bat, Fire Bat, Sword Mask
Purchase: Most shops Zhaoyang Village and on.
Buy: 100
Sell: 50
Shadow Hearts: Covenant
Edit
Famed herb often mentioned in witches' legends. It is said the leaves are dark red because of the animal blood the herb consumes. Restores mystical strength.
Found: Apoina Tower, Domremy, Ardennes Forest, Le Havre
Drops: Statue, Skeeter, Sting, Gregor, Barghest
Purchase: Paris and on
Buy: 100
Sell: 50
Shadow Hearts: From the New World
Edit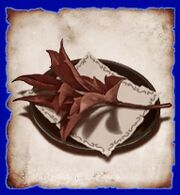 A spiritual plant that restores lost magic power. Grown in secret by the descendants of witches, the exact method to cultivate it remains a mystery.
Found: New York City - Upper West Side x2, Erick Theatre, Arkham University, Alcatraz Prison
Drops: Betelgeuse, Chon Chon, Fat Thug, Gagu, Maii
Purchase:
Buy: 100
Sell: 50