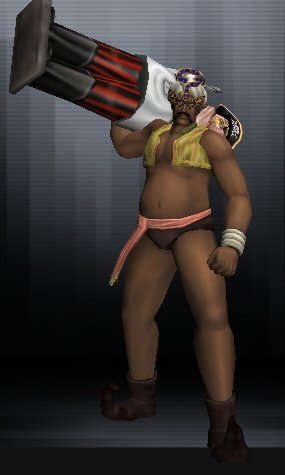 The Man Festival is an event that takes place in Nihonbashi during Shadow Hearts: Covenant. It is the Joachim centred side-quest.
Avaliable after the Asuka Stone Platform appears and the party enters it at least once, the festival involves Joachim (and the party), climbing the rings one by one to the 100th Level, where the Great Gama, in his Great Question form, awaits Joachim for there final one-on-one duel.
The first 26 levels are fought normally; periodically the player must form a party of 2 and 3, however Joachim must always be in the party. After the 26th Level, the player is taken straight to the 89th (although it is told the characters do fight their way all to the top), where there are three more normal battles until the player then must control each character individually, fighting in one-on-one battles until the reach the Great Gama at the top.
All the way through the Man Festival, the player fights diaper-clad "Curry Assassins", their names all being after a type of curry. The list of enemies include:
Murgh Korma
Murgh Masala
Murgh Madras
Murgh Vindaloo
Gosht Korma
Gosht Masala
Gosht Madras
Gosht Vindaloo
Chingri Korma
Chingri Masala
Chingri Madras
Chingru Vindaloo
Fish Curry
Hashed Beef Man (actually the only enemy who does not have a curry on his, rather just a stew, which Lucia notes.)
Dry Curry Man
Curry Prince
Egg Curry
Poor Man's Curry
Curry Sage
Cutlet Curry
Great Question
Edit
See main article: Great Question
After defeating all the Curry Assassins and arriving on the 100th floor, Joachim must fight against the Great Gama one-on-one one final time. His reward is the Great Question form, which replaces his Grand Papillon form.
The 100th Ring of the Man Festival has "ARUZE.COM" written on it. Aruze is the group that created the game.
There are 3 kinds of food-man enemies -

Murgh (chicken), 

Gosht

 (lamb) and 

Chingri

 (shrimp), however, in the US translation, Goshts say "Oink" and Chingris say "Moooo." Maybe the translators decided to do this because they thought it would be easier to make jokes with pork and cow instead lamb and shrimp.
Ad blocker interference detected!
Wikia is a free-to-use site that makes money from advertising. We have a modified experience for viewers using ad blockers

Wikia is not accessible if you've made further modifications. Remove the custom ad blocker rule(s) and the page will load as expected.