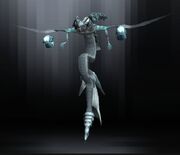 Yuri's secondary Water fusion.
Dragon-like Ocean spirit that resonates with souls possessed of great self-control. It can cleanse the world by summoning the power of icy waters from far away.
Skills
Name
MP Cost
Description
Image
Mirage
12MP
Increases Evasion for one ally
Splash
16MP
single-target Water attack (hard hit)
Cure Plus
24MP
Restores a large portion of HP to one ally
Icicle
32MP
Small-area Water attack (knock down)
Etymology
Edit
Mahrae could be a vocalization for that Latin word mare, meaning "sea, ocean."
Ad blocker interference detected!
Wikia is a free-to-use site that makes money from advertising. We have a modified experience for viewers using ad blockers

Wikia is not accessible if you've made further modifications. Remove the custom ad blocker rule(s) and the page will load as expected.