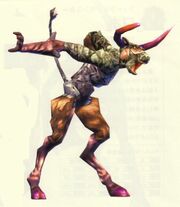 Yuri's mid-level Earth fusion. It can be gained by fighting earth elemental enemies to push the soul counter to level two.
Mid level earth spirit formed by the wounding spirit of a bull. Wielding rocks, it leaves a wake of destruction.
Special Skills
Name and Level
MP Cost
Description
Image
Howling
32 MP
Heals a medium amount of health.
Earth Guard
27 MP
Raises physical defense by 30% to 36% for five turns.
Rock Storm
36 MP
Deals medium earth damage to enemy.
Ad blocker interference detected!
Wikia is a free-to-use site that makes money from advertising. We have a modified experience for viewers using ad blockers

Wikia is not accessible if you've made further modifications. Remove the custom ad blocker rule(s) and the page will load as expected.