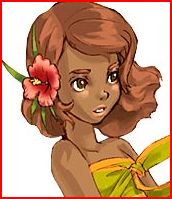 Granddaughter to the Moana Village's shaman Okanagan. She is training to be the next shaman once her grandmother passes away. She seems to be worried about her due to her grandmother's constant worry of The Gate. Loloma is first appeared in the Moana Village once her grandmother asks her to bring her our heroes after their journey to the Macchu Pichh] ruins in Brazil. She then leads them to her grandmother who then discuss of Malice and The Gate. Some time later she is made vice president of the lottery by Keith when he was in his human form.
Ad blocker interference detected!
Wikia is a free-to-use site that makes money from advertising. We have a modified experience for viewers using ad blockers

Wikia is not accessible if you've made further modifications. Remove the custom ad blocker rule(s) and the page will load as expected.