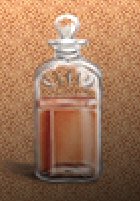 A small bottle of rose wine with a soothing bouquet. Restores some MP.
Description
Edit
Consumable item in Koudelka. It restores 40 MP.
The name is more than likely a poor translation of mistelle (rather than named after an actual Listel brand of wines), an ingredient added to fortified wines. In the PAL version this was muddled as Telis.