Kowloon Fortess is the home of Wugui, which is in the city of Hong Kong, which is eventually taken over by Roger Bacon using Wugui's body to create life, possible this was part of his plan in using the Emigre Manuscript. This place can be unlocked by choosing all the first comments that Alice uses when she is imprisoned by Dehuai. This place is not for the inexperienced, but cannot be visited once you finish Kuihai Tower. Lottery Member No. 10 is here, but only until you clear the boss.
Wugui's Room
Edit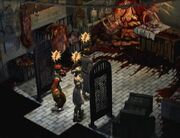 Upon entering the room, Yuri and Margarete express disgust, and Zhuzhen finds everything a bit out-of-place for a gangster boss. Roger Bacon appears, confirms the Taoist's suspicions, and sends a resurrected Wugui, Cursed Puppet, at the party.
Exploration
Edit
Tight-Lipped Merchant
Boss: Cursed Puppet
Valuables
Edit
Ad blocker interference detected!
Wikia is a free-to-use site that makes money from advertising. We have a modified experience for viewers using ad blockers

Wikia is not accessible if you've made further modifications. Remove the custom ad blocker rule(s) and the page will load as expected.