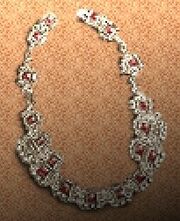 Elegant necklace made of carved silver and decorated with multiple garnets and pearls.
Jewelled silver necklace. Increases wearer's INT, PIE stats, and drastically boosts MND.
Ad blocker interference detected!
Wikia is a free-to-use site that makes money from advertising. We have a modified experience for viewers using ad blockers

Wikia is not accessible if you've made further modifications. Remove the custom ad blocker rule(s) and the page will load as expected.