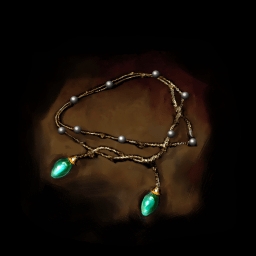 An accessory that widens the hit areas on the ring by about 20%. It's useful if you're having trouble with the ring or need a damage boost.
Description
Edit
A lariat necklace set with jade and pearls. Favorite item of the undefeated gambler Bronco Billy. Widens the "success" area of the Judgement Ring.
Where Found: Lottery No. 15, Drops from Xieshi
Where Bought: Prague, London, Roger's House
Buy: 5050
Sell: ??
Ad blocker interference detected!
Wikia is a free-to-use site that makes money from advertising. We have a modified experience for viewers using ad blockers

Wikia is not accessible if you've made further modifications. Remove the custom ad blocker rule(s) and the page will load as expected.