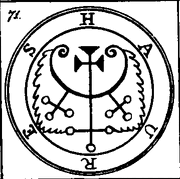 Description
Edit
Appears as a dark man in leopard skin. Lives in the south of the Flame Desert, where he yearns for the lush forests beyond.
Where to find
Edit
Paris, Champs Elysses Hotel
Solomon's Key Location
Edit
Flame Desert, bottom row, left node.
Magic
Name
Base MP Cost
Description
Image
Ring
Pre-Completion
Red Rave
16 MP
Small area Fire attack (hard hit)
Post Completion
Red Blaze
32 MP
Medium area Fire attack (hard hit)
Ad blocker interference detected!
Wikia is a free-to-use site that makes money from advertising. We have a modified experience for viewers using ad blockers

Wikia is not accessible if you've made further modifications. Remove the custom ad blocker rule(s) and the page will load as expected.