Hashed Beef Man
Shadow Hearts: Covenant
HP
1120
MP
50
Element
Fire
Weight
Light
Abilities
-
Location
Man Festival
Immunities
Poison

Deadly Poison
Paralysis
Seal
Petrify
Slow
Delay
Instant Death
HP Down
P-ATK Down
Sp-ATK Down
P-DEF Down
Sp-DEF Down
Evade Down

EXP Gained
10
Cash
10
Souls Gained
10
Item Drops
Mana Extract
NOTE
Encountered by


Lucia only.
Curryman fought during the Man Festival
Bestiary Entry
Edit
This warrior dreamed of growing up to be a curry warrior. However a tragic lack of access to spices forced him to turn to a tomato-based sauce.
Etymology
Edit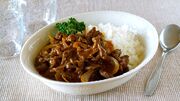 Hashed beef is a dish consisting of diced meat, and mixed with spices and onions. It is primarily cooked to make use use of leftovers.
Unique among the currymen, this is the only one that is based on a stew dish, rather than a curry.