Enemy in Shadow Hearts: Covenant and Shadow Hearts: From the New World
Bestiary Entry
Edit
Giant-sized version of the universally-despised bug. Aware of its effect on people, it often tries to stick its head right into one's stomach area.
Etymology
Edit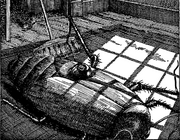 Gregor is named for the main character, Gregor Samsa in Franz Kafka's The Metamorphosis.
In the story, a travelling salesman wakes up one day to find himself transformed into a large insect-like creature, to his family's sheer revulsion.