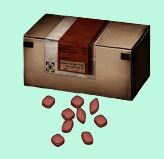 Turns Joachim into Grand Papillon or Grand Q.
Description
Edit
The long-awaited medicine that makes you young again. Expansion exceeds 400%, so avoid overdosing. It causes increased excitement and physical transformation.
Found: Neam Ruins, Foreigner's Cemetary, Asuka Stone Platform, Trading, Lottery No. 2, Dog Shrine
Drops: N/A
Purchase: N/A
Buy: N/A
Sell: 225
Ad blocker interference detected!
Wikia is a free-to-use site that makes money from advertising. We have a modified experience for viewers using ad blockers

Wikia is not accessible if you've made further modifications. Remove the custom ad blocker rule(s) and the page will load as expected.