Futtachi (経立*)
Shadow Hearts: Covenant
HP
1250
MP
348
Element
Water
Weight
Normal
Abilities
Instant Death

Splash
Hail Crash

Location
Sea of Woods
Immunities
Poison

Deadly Poison
Paralysis
Petrify
Slow
Delay
Instant Death
HP Down
P-ATK Down
Sp-ATK Down
P-DEF Down
Sp-DEF Down
Evade Down

EXP Gained
6600
Cash
10
Souls Gained
4
Item Drops
Mana Extract
NOTE
-
Creature found in Sea of Woods, in the Director's Cut edition of the game.
Bestiary Entry
Edit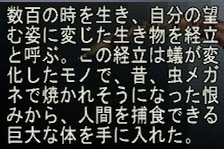 数百の時を生き, 自分の望む姿変じた生き物を経立と呼ぶ. この経立は蟻が変化したモノで,昔,虫メ力ネで焼かれそうになった恨 みから, 人間を捕食できる巨大な体を手に入れた.
Rough Translation:
A Wood-Ant, having lived for over several hundred years, it has become a Yōkai - a monster of calamity. Though it has changed drastically in size, it still bears a grudge from its old, tiny, days; it was almost burned beneath a magnifying glass. Becoming this big has allowed it to prey on humans, and get its revenge.
Etymology
Edit
Futtachi is a non-specific type of yōkai, where an animal (typically a chicken, or monkey, in ghost stories), having lived for an extended period past their species normal lifespan, gains magical powers, and often, an increase in size.