Fengtian is the first inhabited town Yuri and Alice come across. It isn't very large, but there is a shop, a train station, and and several other buildings. It is within a night's walking distance from Zhaoyang Village. The Silent Peddler makes his first appearance, but alas, he has nothing to sell. Lottery Member No. 15 is here, as well.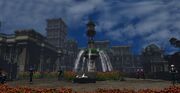 Fengtian Item Shop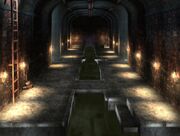 This sewer tunnel is small and straightforward, and leads outside of the city. However, there have been some kinks thrown in the works. The exit has been sealed!
Boss: Water Tiger
Valuables
Edit
Out of the sewers, Yuri, Alice, and Margarete come upon an air field controlled by the Japanese Army. They're all keen on getting out of there, but Tiny has other plans...
Boss: Beast Dog