Father Elliot
Talk

0
1,745pages on
this wiki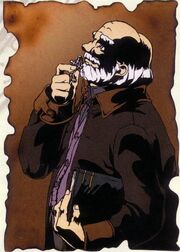 Father of Alice Elliot who was dispatched from the Vatican to collect three stolen books, he was teamed up with James O' Flaherty to find them. He was killed in 1913 in Rouen, France, one month before the events of Shadow Hearts.
Father Elliot served as an exocrist for the Vatican tasked with finding the man who had stolen three books of forbidden knowledge. He teamed up with James O' Flaherty to find the three books, and they worked together for a while to find them. But after his daugther was born they began to work apart, and they soon lost contact with each other. Father Elliot was able to track the man who was responsible, a man calling himself Roger Bacon, but knew he could not handle such a powerful warlock. Fearing for his daugther's life, he met up with his friend who explained that he could arrange a meeting with a warlock just as strong as Roger Bacon, Albert Simon. As they waited for Simon, they were cornered by Roger Bacon. In the confrontation, he sacrificed himself to save his beloved daughter, Alice.
Not much is known on Father Elliot. There is confusion, however, about his affiliation with the Vatican. Priests are unable to marry, yet he has a wife (debated), but definitely a daughter. He could either have been divorced, or he could have been just an exorcist, which do not receive Holy Orders when anointed. Possily he could be an unordained priest or he may be a clergyman from another denomination that converted because converted clergyman are exceptions to the rule of celibacy.