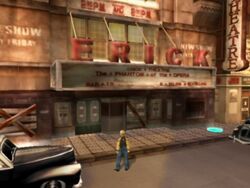 A location Johnny visits to find Marlow Brown, on behalf of Professor Gilbert.
A delapidated theatre, it has been overrun by Thugs and Fat thugs.
Finding the insane Marlow secreting himself away in the theatre loft, Johnny is attacked by a creature emerging from a portal. It is then Johnny meets Shania, in her form as the Thunderbird.
The Deep One is fought here as a boss.
Enemy Ecounters
Edit
Treaure Chests
Edit
The background music is "Delusion of Death".
It is also the only place where the player may here "Oh smania! oh furie! ~ D'Oreste e d'Aiace", an extract from an Opera written by Mozart.
The theatre is named after the titular Phantom, from the 1925 version of Gaston Leroux's "The Phantom of the Opera", where he is known as Erik".
The sign above the door showing the latest plays, reads "The Phantom Of The Opera", as yet another reference to the play movie.
Ad blocker interference detected!
Wikia is a free-to-use site that makes money from advertising. We have a modified experience for viewers using ad blockers

Wikia is not accessible if you've made further modifications. Remove the custom ad blocker rule(s) and the page will load as expected.