Dry Curry Man
Shadow Hearts: Covenant
HP
1120
MP
50
Element
Earth
Weight
Light
Abilities
-
Location
Man Festival
Immunities
Poison

Deadly Poison
Paralysis
Seal
Petrify
Slow
Delay
Instant Death
HP Down
P-ATK Down
Sp-ATK Down
P-DEF Down
Sp-DEF Down
Evade Down

EXP Gained
10
Cash
10
Souls Gained
10
Item Drops
Pure Extract
NOTE
-
Curryman fought during the Man Festival
Bestiary Entry
Edit
Having led a dry and uninteresting life up to this point, this 38-year-old curry warrior views the lives of his spicier curry cousins with great envy.
Etymology
Edit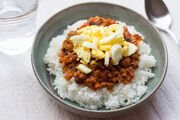 Dry Curry ("珈哩の乾") is a popular curry dish in Japan.
Its quicker preparation leaves the meat "drier", and with a texture similar to chili con carne.