Cures all Status and Ring abnormalities from one ally. Since Heal (in Covenant onwards) does practically the same thing, Daphne Fruit should only be used if healer is Sealed, for instance. Daphne Fruit is expensive (if ever sold at shops) and hard to find. So use them wisely.
Shadow Hearts: Covenant
Edit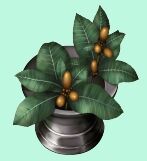 Fruit from the tree into which the goddess Daphne transformed herself. Very difficult to acquire. Eating the fruit frees you from all illness and woe.
Shadow Hearts: From the New World
Edit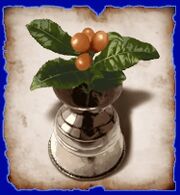 Fruit from the tree into which the fairy Daphne was changed. The tree only blossoms once every three hundred years, and its fruit heals all forms of ailment.
Found: Lottery #12, Lottery #11, Lottery #10, Roswell Laboratory, [Sunken Ship], Chichen Itza, Machu Picchu, Lottery #6, Moana Village (NG+), Samuel's List Simple Request 2 (NG+), Pissaro's List Please Find It! 2 (NG+), Garvoy Valley, Guiana Highlands, Ninja Hideaway, Quiz Bowl (NG+)
Drops: Killer (Enemy Action: 9 Times), Fatty Tuna Sushi, Alyosh, Cucumber Roll, Janus, Seymouria
Purchase: N/A
Buy: N/A
Sell: 525
Ad blocker interference detected!
Wikia is a free-to-use site that makes money from advertising. We have a modified experience for viewers using ad blockers

Wikia is not accessible if you've made further modifications. Remove the custom ad blocker rule(s) and the page will load as expected.