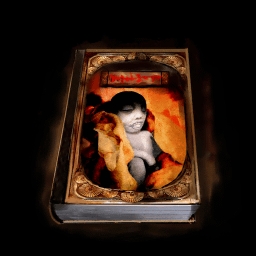 Greatly sought after, this ancient tome is rumored to be a secret guide to summoning the "Other Gods".
How to Get
Edit
Return to the where Albert Simon and Amon were fought in the Nemeton Basement.
Mentioned as the "R'lyeh Text" (ROO-LEE-AY) in Shadow Hearts: Covenant, it has the power to summon a god from beyond the stars. Albert uses it to raise the Neameto Float.
The "R'lyeh Text" is a direct reference to H.P Lovecraft's Cthulhu Mythos. R'lyeh is the name of a submerged city in "The Call of Cthulhu". It is characterized by it's non-euclidean geometry and unsettling hieroglyphs. It is the location of where the eldritch god, Cthulhu rests.
Ad blocker interference detected!
Wikia is a free-to-use site that makes money from advertising. We have a modified experience for viewers using ad blockers

Wikia is not accessible if you've made further modifications. Remove the custom ad blocker rule(s) and the page will load as expected.