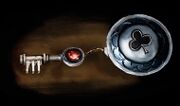 Key to prison-like mental hospital. It is worn from the hands of the many cruel torturers who held it.
How to Get
Edit
Nabbed from the chest in the bottom left room of the Calios Mental Hospital.
Used to open all doors with Club emblem locks.
Ad blocker interference detected!
Wikia is a free-to-use site that makes money from advertising. We have a modified experience for viewers using ad blockers

Wikia is not accessible if you've made further modifications. Remove the custom ad blocker rule(s) and the page will load as expected.