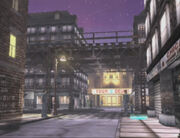 Chicago is a swanky, high-rolling type of town. Al Capone runs this town, and his war with McManus becomes a thickening plot twist as the game progresses. Frank urges the party to come here to help gain information on the whereabouts of Gilbert from his 'source,' who is quickly revealed to be the fifth party member Mao. In this location Edna Capone is met, along with her lover and party member Ricardo.
There are several interesting things in Chicago. The first is the introduction of Masatoshi, who tells Johnny about the wonders of Snap Card trading. The person standing closest to the save point is Lottery Member #11, Mack, who offers the Pisces Stellar Chart as the red-prize reward. Here we also learn more about the Prohibition and how it is effecting the members of the community.
During the storyline, battles will take place in this location. These enemies are limited in appearance and cannot be found elsewhere in the game except in the Pit Fights.
Four Deuces
Edit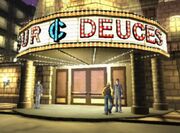 Club owned and operated by Al Capone - managed by Mao, when the party meets her, due to Capone's incarceration in Alcatraz Prison. The party are also introduced to Ricardo, who performs regularly at the club.
Enemy Ecounters
Edit
Ad blocker interference detected!
Wikia is a free-to-use site that makes money from advertising. We have a modified experience for viewers using ad blockers

Wikia is not accessible if you've made further modifications. Remove the custom ad blocker rule(s) and the page will load as expected.