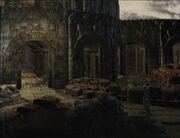 An old and strange sanctuary like cave that holds many mysteries and powerful monsters.
The Cave Temple contains Keith's best armor and Zhuzhen's best weapon.
This dungeon becomes available after obtaining the Émigré Manuscript and viewing it in the Valuables menu. After going through the dungeon once, you can re-access it with a different route upon lookng at the Émigré Manuscript again in the valuables menu. This allows you to challenge Cherubim.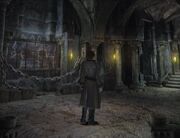 Boss: Cherubim
Valuables
Edit
Mant.ofShivering
Holy Peak Staff
Soundtrack
Edit
The music that plays throughout this dungeon is "ALICE" from the Shadow Hearts OST. During the boss battle, "Brain Hopper" is played.