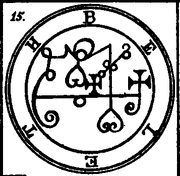 Description
Edit
A magnificent general cloaked in red. A demon of elegant habits, he lives by the desert's oasis so he can bathe every day.
Where to find
Edit
Defeat Andre at Manmariana Island.
Solomon's Key Location
Edit
Flame Desert, top row, left node.
Magic
Name
Base MP Cost
Description
Image
Ring
Pre-Completion
Rock Rot
16 MP
Small-area Earth attack (high angle)abnormalities for one ally
Red Rave
16 MP
Small-area Fire attack (hard hit)
Post Completion
Evil Ray
16 MP
Small-linear Dark attack (high angle)
Ad blocker interference detected!
Wikia is a free-to-use site that makes money from advertising. We have a modified experience for viewers using ad blockers

Wikia is not accessible if you've made further modifications. Remove the custom ad blocker rule(s) and the page will load as expected.