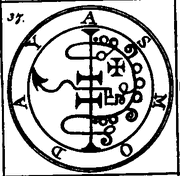 Description
Edit
Demon lord of authority. He lusts for power, for no other reason than to wield it. Beside his castle is the Spring of Wisdom.
Solomon's Key Location
Edit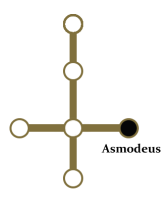 Palace of Transgressions, right-most node.
Where to find
Edit
Before leaving Europe after Idar Flamme, buy it off the drunk in Petrograd for 100,000 cash.
Magic
Name
Base MP Cost
Description
Image
Ring
Pre-Completion
Dark Resist
32 MP
Increases ally's resistance to Light-element attacks by 50%
Evil Crest
80 MP
Large AOE Dark attack (high angle) plus odds of Special Attack Down
Post Completion
Holy Resist
32 MP
Increases ally's resistance to Light-element attacks by 50%
Bright Crest
80 MP
Large AOE Light attack (knock down) plus odds of Special Defense Down