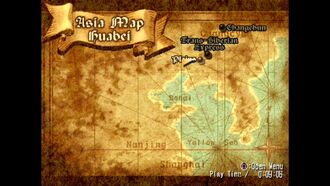 Shadow Hearts
Edit
The first continet visited in Shadow Hearts. Despite being known as Asia, all of the locations are in China. It's battle theme is Brain Hopper and Boss theme is China Ogre.
Places to Visit:
Edit
Ad blocker interference detected!
Wikia is a free-to-use site that makes money from advertising. We have a modified experience for viewers using ad blockers

Wikia is not accessible if you've made further modifications. Remove the custom ad blocker rule(s) and the page will load as expected.