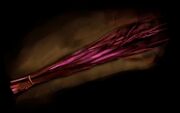 This incredibly foul-smelling medicine contains catnip. It smells foul, but it is a sure cure for cat troubles.
Zhuzhen uses it with the Torch and the Metal Bowl to make the Granny Mayor come out of hiding. This initiates the Felinus battle.
Ad blocker interference detected!
Wikia is a free-to-use site that makes money from advertising. We have a modified experience for viewers using ad blockers

Wikia is not accessible if you've made further modifications. Remove the custom ad blocker rule(s) and the page will load as expected.