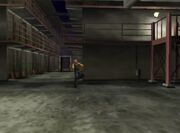 Needing Mao's help, Johnny and the party decided to help spring notorious gangster (and Mao's friend), Al Capone from the infamous Alcatraz Island Prison.
Enemy Encounters
Edit
Due to the nature of the plot, all the enemies in this area are limited, and found only elsewhere in the Pit Fights.
Ad blocker interference detected!
Wikia is a free-to-use site that makes money from advertising. We have a modified experience for viewers using ad blockers

Wikia is not accessible if you've made further modifications. Remove the custom ad blocker rule(s) and the page will load as expected.